Excellent facilities in the perfect environment
We have recently finished converting our old stone barn into 3 charming holiday
cottages with great thought to the environment. We have installed a biomass boiler for
all the heating and hot water and photo-voltaic (solar) panels for our electricity as well
as high grade insulation to help the environment. The result is 3 very comfortable
cottages with plenty of hot water, which are easy (and cheap!) to heat in the winter.
Great thought has gone into the décor and comfort of our guests. The mattresses
have been especially sourced and there are feather pillows all round, unless you
prefer synthetic in which case we can provide those too. High quality bed linen and
towels are provided and there is a communal laundry area with 2 washers and a
dryer for the use of the 3 cottages only.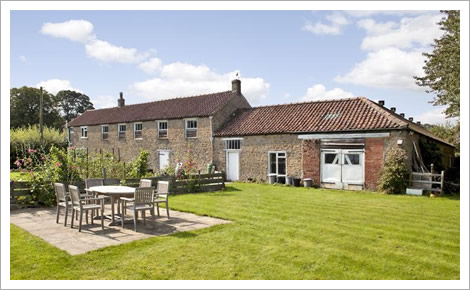 Above : Coach House Cottages before conversion
All the cottages are accessed from the parking area, past the tennis court and through the large communal garden. Each cottage has its own private entrance door.
IPOD docking facilities and WiFi access is available in every cottage.